---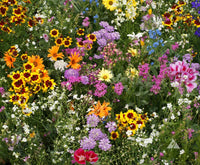 Net Wt. 5g (approx. 8000 to 9000 seeds)
Enough seed to grow a 45 square foot cut flower garden.
This easy to grow mixture is a carefully selected combination of beautiful, hardy annuals that will provide an interesting array of sparkling colors and an attractive mix of flower forms throughout the blooming season. A selection of favorite Alaskan flowers of various heights and types in a wide range of brilliant colors. This mix includes:
African Daisy
Baby's Breath
Bachelor Button
Calendula
California Golden Poppy
Catchfly
Chinese Forget-me-not
Clarkia, Coreopsis
Cosmos
Garland Chrysanthemum
Godetia
Indian Blanket
Larkspur
Marigold
Pinks
Scabiosa
Shirley Poppy
Spurred Snapdragon
Stock
Tidy-Tips
Depending on seed availability. A garden that will be attractive all summer and provide a constant supply of flowers for cutting. Ideal for beds, borders and wild spots.  Early to Midseason.